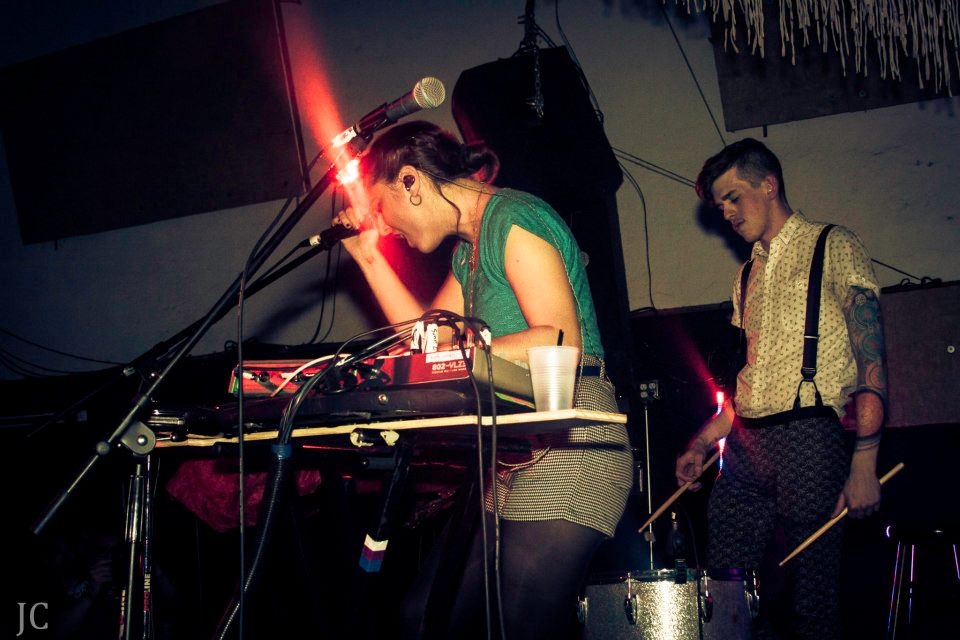 You can take the musician out of the wilderness, but not the wilderness out of the musician. That's how Stranger Cat was born.
The latest project from Cat Martino, it is the result of Martino's brief sojourn in the Sierra Foothills in search of a respite from city living, writing and recording songs that blend together synthesized instruments and electronic beats and layering it with her powerful voice. Still an organic quality is retained.
A few years ago, the Brooklyn native was afflicted with an undiagnosed neuromuscular condition that left her isolated in her bedroom. Physically constrained, she turned to her microphone and loop pedal for musical expression.
Now, having fully recovered, Martino has thrown herself into her music, employing the loop effects she'd taught herself in her songs, giving them an almost dream-like quality. However, she notes these new songs balance an ethereal layering quality with a rawer and more aggressive energy.
She's also spent the last few years touring and recording with friends – first fellow songstress Sharon Van Etten, then frequent collaborator Sufjan Stevens and now, Stranger Cat co-collaborator Sven Britt. In fact, they've even recorded an as-of-yet-to-be released EP together.
We asked Cat a few questions in advance of Stranger Cat's appearance at BLT this Saturday, October 19, 2013 at Standard Toykraft.

Tell us something you think is beautiful.
Our bodies are a mini-verse to the macro universe. Inside of us is mostly water, and the elements oxygen, carbon, hydrogen and nitrogen. And essentially we are the same stuff of the stars. Scientifically and metaphorically this is beautiful to me.
What is your first memory of love?
My father holding me as a newly adopted child. I was only 3 months old, so perhaps it's just I've envisioned the story so many times… I don't remember it in my mind, but definitely in my body.
What is something you know to be true since you were a child?
Cinnamon Toast Crunch is the best cereal.
What do you love most about making music?
The constant return to being a curious and playful child, and having a raw expression through sound. Also, the fringe benefits are off the hook, never-ending hummus…
Have you known other people who have done Beauty Love Truth? What are you expecting? What are you looking forward to?
Nope! No clue, surprise me, bring it ON! I am looking forward to what I just found out about improvisation and comedy – improvisation has always been a huge part of my creative process before a song becomes fixed. It allows one to be completely in the moment, and find intuitive truths come out when there is no time for plotted thinking. I also love comedy. I am not funny always, but I am a ridiculous person.
Where is the most surprising/unexpected place you've found beauty?
At the bottom of a bottle of Hornitos – copyright Hornitos 2013.
When did the truth get you in trouble?
Every. Single. Time.
The aliens have landed and one asks you to explain beauty/love/truth [choose one]. How do you explain it to them?
As a precursory, I would need to test and see if they use what we understand to have the sense of vision. If so, I would explain Truth through interpretive dance, obviously. I keep a unitard on hand in case surprise, said situation arises.
What's something/someone you love that would surprise people?
Miley Cyrus.
What is easiest for you to sing about, beauty, love or truth?
I guess truth combines beauty and love, so I'd have to say that. Love and beauty are not always pretty, but they are most always truthful.
______________
Nivea Serrao is an entertainment journalist and sketch comedian living in New York City. She writes for NYU's Washington Square News and the satirical ladies' news site Reductress. Follow Nivea on twitter or tumblr.
[box]Stranger Cat is the musical guest for Beauty Love Truth, this Saturday, October 19, 2013 at Standard Toykraft.[/box]
More from Cat: