A revolving cast of some of the best improvisers come to improvise a play inspired in the moment by the guest musician.
NEXT SHOW: Saturday, October 19, 2013 at 8pm at Standard Toykraft
722 Metropolitan Ave, Brooklyn, New York. L to Graham or G to Metropolitan.
Musical Guest:Â STRANGER CAT
(Cat Martino and Sven Britt).

Improvisers:
Matt Higgins (Centralia, Burn Manhattan)
Dan Hodapp (PIT, UCB)
Ed Illades (IO Chicago)
Shannon Manning (Second City, IO, UCB, "Conan")
Doug Moe ("Doug Moe is a Bad Dad," UCB's MOTHER, "30 Rock," "Conan")
Louie Pearlman ("Billy on the Street", Story Pirates, Spidey Project)
Alexis Saarela ( C. Monster, Taco Supreme)
Rylan Venegas (Magnet)

Plus an introduction by LIAM MCENEANEY who will hold forth on the topic of beauty, love, and/or truth.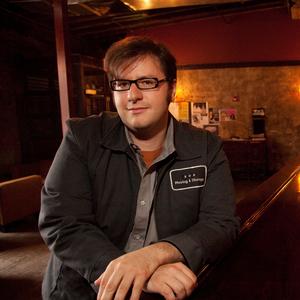 On October 1ST, ASpecialThing Records released Liam McEneaney's debut album, "Comedian."
Liam has appeared on Comedy Central, Showtime's "Caroline Rhea & Friends," Vh1's "Best Week Ever," and his concert film, "Tell Your Friends! The Concert Film!"
He has toured as a headliner across North America and throughout Europe.
He's also made multiple appearances on top podcasts including WTF with Marc Maron, Keith & The Girl, Put Your Hands Together!, The Steven Brody Stevens Festival of Friendship, Myq Kaplan's Hang Out With Me, and many more.
More about STRANGER CAT:
Raised in the urban sprawl, Stranger Cat was born out of a respite in the wilderness. As most stories go, she was seeking a noiseless place for musing, but found instead a sentient beast stalking through the woods, be it animal, alien, or deity; she memorized its sound.
Stranger Cat is the new project from Cat Martino. Her penchant for loop effects was inspired by homebound isolation from a debilitating neuromuscular affliction several years ago that mysteriously could not be diagnosed. Isolated to her bedroom for the better part of a year, a simple microphone and loop pedal became her new choir. Now restored to health, she celebrates her freedom of movement by creating lush layers with voice, synthesizers, and electronics that gamut ethereal, soulful, and turbulent chaos, inspired by the body in motion.
Cat retreated from Brooklyn, NY to winter in the Sierra Foothills and wrote and recorded new songs. Simple melodies or beats morphed into powerful walls of sound to melt in through snowstorms, howling winds, or stark silence nestled by gargantuan oaks and the infinite starry dome.
Joined by co-collaborator Sven Britt for a week, they traded recording each other on casios, synths, guitars, drum machines, branches and spoons.
Often a cat would come to the door to listen, meowing to be let in. When it appeared daily they called it Stranger Cat, observing its alien supernatural powers, as she'd heard tell of the Foothills' history of UFO sightings and ghost haunts. One day they let Stranger Cat in. The plump feline ate all the kitty food and left.
The Brooklyn native was Sufjan Stevens' right hand woman for Age of Adz andAll Delighted People records and world tour, and will co-release a Flexi-Disc with Stevens on Joyful Noise Records Fall 2013 they co-wrote/produced. Cat sings on the new Son Lux record Lanterns, recorded/toured with Sharon Van Etten circa Epic, appeared with The Shins on SNL and Williamsburg Park, played in Passion Pit at Governor's Ball. She has opened tours in US or EU for Indians, Night Beds, Rufus Wainwright, Marissa Nadler, Black Rebel Motorcycle Club, Patrick Watson and more. She also really likes to jam and create with many of her brilliant creative friends you may never have heard of but will hopefully soon!
Featured on NPR's All Songs Considered (video by our friend Deborah Johnson!)
All this, plus drinks and a hang before and afterwards…for $10. (Donations welcome!)
Saturday, October 19, 2013 at 8pm at Standard Toykraft 722 Metropolitan Ave, Brooklyn, New York. L to Graham or G to Metropolitan.