The PIT 123 E 24th BTW Park & Lex (new location!)
Musical guest Ko-Lition (Check out their new album on iTunes) will play their music to inspire improvised scenes. Nothing is planned; it's all improvised. You will never see this show again!
Featuring an INTRODUCTION by MIKE DOUGHTY who will speak AND/OR sing on the subject of Beauty Love AND/OR Truth.
This month's IMPROVISERS include:

Kaitlin Fontana (Buckshot 'n' Benny, CTV's "The Party")
Shannon Manning (Second City, IO, UCB, "Conan")
John Murray ("30 Rock" UCB: Death By Roo Roo)
Louie Pearlman (Story Pirates, The Spidey Project, Buckshot N Benny)
Natasha Rothwell (UCB, PIT, Just for Laughs, Story Pirates)
Erik Tanouye ("BP Spills Coffee", Onion News Network, UCB: Curfew, Neighbor Boy)
Betsy Todd (UCB, Magnet, "Battle of the Bozos")
Matt B. Weir (Cool Cars and Science,  We're Matt Weir)
MORE ABOUT KO-LITION:

See Music Live… Its Bigger Than Hearing It
Biography
"Everyone is a robot and it's ok to be a Robot… Just be an interesting one!" That's Ko-Lition; the coming together of artists that separate themselves from the norm of the robotic-like 9-5 life and stagnant music that people hate. These Knockout (K.O.) Artists strive for that separation and creation of new 'feel good' music. Combining genres of music such as Hip Hop, Jazz, and Electro, they bring new flavor and a new attitude.
The Brooklyn boys started their music career with a boom box and a mic rapping to friends and family. They reached out to anyone who would listen and were eventually picked up by Brothers and Sisters Entertainment (BSE) where they were able to really bring out their talent through Showcases all over the US, including 106th and Park and BB Kings.After many years in the BSE Family, the Duo decided to venture out on their own and created their own production company, See Music Live LLC which embodies the importance of astonishing and energetic stage presence as well as their vision of where they want to see music go in the years to come. They can be found spreading their music in open mics and showcases all over NYC which include venues like Sullivan Hall and China 1 Lounge. They are currently working on their upcoming album "Love Jazz Robotz," which features their single 'Must Be Robotz,' coming soon. Ko-Lition are looking to excite audiences with brand new music in a brand new year.
Meet the Guys
DE-LO
"I FIRST CAUGHT THE VERBAL BUG AFTER LISTENIN' TO A TRIBE CALLED QUEST'S 'ELECTRIC RELAXATION…'" says De-Lo, "it was the first track I've heard that had me say 'damn… that's how I'm a sound when I get my words together." His first battle was in JHS against another student. They both didn't write at the time, so "we would jack our favorite MCs and battle wit their rhymes and the kid didn't know how to deliver so he always lost. Shortly after, we started writing our own and from then, I realized that I had the gift of delivery." By the time he entered HS, De-Lo's skills expanded, and so did his confidence. De-Lo has a passion for the art he loves, and looks to be a trailblazer in the next era of rap, bringing back the love of lyricism and just good music making.
K BRIGGS
First felt the lyrical bug in Elementary school when he wrote a rhyme about black history month. It was so well received that he felt like it was the start of something hot. He honed his skills over the years, even incorporating his love into his schoolwork (he once wrote a paper in JHS analyzing the verses of De La Soul's "Millie Pulled a Gun on Santa", complete with an audio presentation of the song to his class). As his young maturity grew, he continued listening to the greats in hip-hop, developing his lyrical and story-telling ability. Though mostly in a party mood, his lyrics are thoughtful, fun, yet strong, serious and intelligent. He is one of the main creative heads behind the development of Ko-Lition overall style.The Duo draw their influences from all genres of music from A Tribe Called Quest, Jay-Z, Black thought, Mos Def, Kanye West, Outkast, Missy, Daft Punk, Maroon 5, Fred Wesley and the Gorillaz, to name a few. Ko-Lition are delightful young men with the charisma and energy to keep an entire room entertained. What's their mission statement? "We are here for the taking."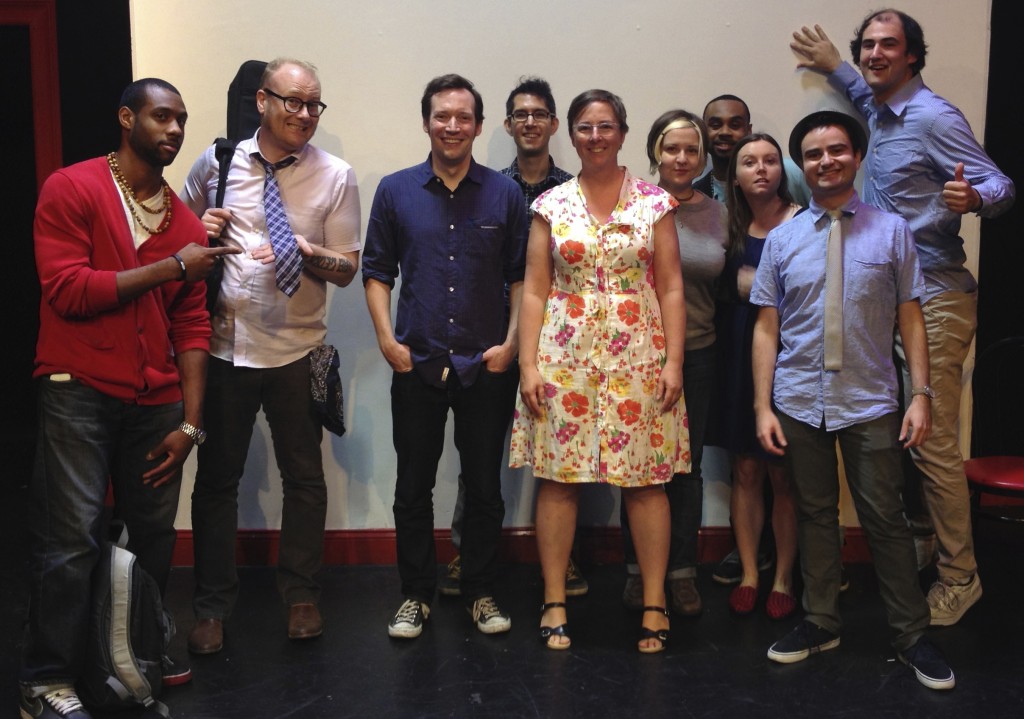 Next show:
→ THURS, SEPTEMBER 27 at 8pm with musical guest Stephan Said and intro by Starlee Kine (NPR)
Check out recent radio program Cat Radio Cafe with Janet Coleman and David Dozer on WBAI. PART II mp3 download or listen online (starts at 5 minutes in.)